These misty Mondays and elongated muggy mornings that seem to go on forever, aren't exactly the most inspiring of atmospheres. All we want to do is stay in bed until it's a little lighter and brighter, and then come home and do the same.
But when the weather is rubbish and low, there's a huge number of DIY projects that you can get tucked into for those I'm never leaving the house again evenings…
Whether it's a few crafting hours in an evening making Christmas cards and gifts, or a quick DIY session of home improvements, we've collated 7 nifty till projects to inspired you out of the October weather funk.
1. Let's Go Lego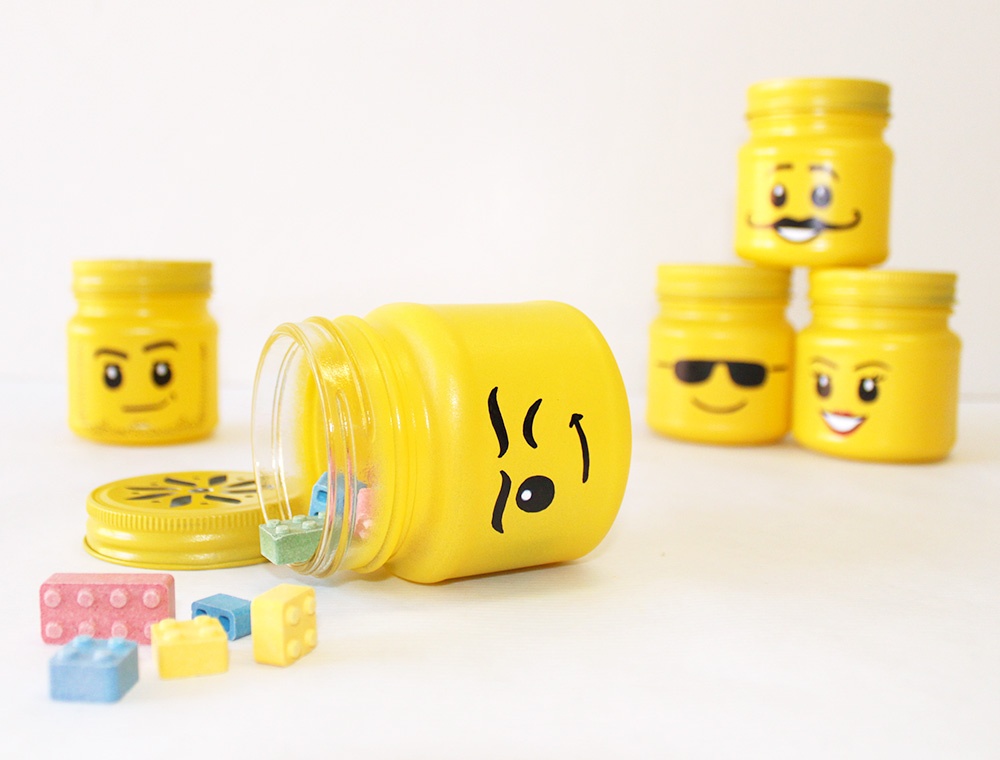 These Lego Head Mason Jars are perfect for any little kids. Fill them with sweets or toys as a cute gift idea they'll absolutely love.
2. Get Savvy with Your #SHEFLIE
In last week's blog, we shared tips on How to Master Your #SHEFLIE, and this sweet little trick means your bookcase can look sophisticated and orderly, whilst you chuck any clutter behind to store away and hide…
3. Jazzify Your Drawers
Drawer liners are no longer just for making your clothes drawers smell nice, nor are they any more a old, traditional things that only your grandma gets away with now…
Lining your drawers gives them a new lease of life, and with self adhesive vinyls and pretty papers available pretty much everywhere, you'll be spoilt for choice when choosing the perfect drawer lining paper.
4. Great Garlands
Autumn is the biggest time of year for any creative King or Queen, so there's a huge range of little projects to choose from. This garland is extremely easy to make, and would look beautiful in Autumnal reds and yellows to hang above the fireplace or bedstead.
5. Create Easy Access
We all know that classy yoga-style pose we all have to endure whilst reaching for our phone on the side table whilst holding up our cuppa so we don't spill everywhere. It's a twist, reach, leg out a bit and arm stretch. It's basically exercise – something which is not acceptable in the cold. Which is why we love the idea of creating one of these over-the-sofa side tables, just big enough to keep all the essentials nearby, with space for a few biscuits too…
6. Re-Define Your Storage
This project takes classic storage and – literally – turns on its side. Upcycling an old drawer into a shelving space for decoration in any room of the house.
7. Pumpkins for Decoration
Pumpkins aren't just for Halloween, you know? And we've never seen something like this intricate decorating project. Transform your pumpkin into a work of art, with a much better success rate than carving out some weird face that will inevitably sink into itself after you light a candle…